So What is a Pulsation Dampener?
Monday, 27 June 2022 | Admin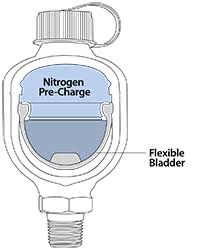 So What is a Pulsation Dampener?
In response to the many questions we have had over the weekend regarding vibration reduction on pressure washers I though t it would be useful to offer the following guide to some vibration causes and effects on your system.
Vibrations on a pressure washer generally come from one of three things,
1. Cavitation which is a result of air being drawn into a system, excessive numbers of fittings or reduced bore fittings on twin feed systems which cause turbulent water to enter the pump
2. Natural oscillation from the triplex pump itself (basically peaks and troughs in pressure created by the pump on each crank shaft rotation)
3. Vibration caused by the accessories used on the machine (ie Turbo nozzles)
Of the three causes above there are a limited number of solutions
1. Ensure all fittings are of a suitable bore size for the water flow of the machine, ensure o-rings are refreshed regularly and that all clips are tight
2. Fit a Pulsation Dampener inline with the pump to reduce the impact of the fluctuating pump pressure produced by the pump
3. Purchase a Falch Point Speed or similar which use a magnetic drive to reduce vibration exponentially
A pulsation dampener is a nitrogen charged accumulator that absorbs pressure peaks, water hammer and pipe vibrations using a diaphragm to absorb the pressure spikes in the system, these devices are generally fitted to pump heads and are most common in fixed installations where solid pipe work is used where any vibration would be more noticeable and detrimental to the installation. They are also more common on lower speed and PTO pump units where the slower rotation of the pump gives bigger more noticeable peaks. This will to an extent reduce hose vibration and mechanical wear at the key way, but ultimately will not eradicate vibration from the use of turbo nozzles.
So how do I install a pulsation dampener on my system?
Most are fitted directly to the pump head gauge port, where they can be mounted vertically. Ideally a pulsation dampener should always be full of liquid, draining and refilling the device on a regular basis will cause premature wear to teh diaphragm and early failure.
What maintenance is required?
Like any charged device these should be checked every six months and charged with nitrogen to ensure that the device is operating properly, this should always be done by a professional able to vent the old gos safely.
Do we stock a ready to fit solution
A typical pulsation dampener from the like of Suttner rated to 220 Bar will cost around £45 plus vat with the fittings to install the unit on most systems will probably increase this to £60-70 and in most cases can be fitted with a bulkhead fitting straight through the baseplate of a two wheel unit above the front foot bar to afford the device as much protection as is possible.